Did you read
that post
last week? You know, the one about the chart plotter taking a nose dive mid-sail? Mark worked with it - checking wires, looking for corrosion, etc. It would flash on, then die again. We finally accepted the fact that it's 10 year old technology and we need to move on.
That resulted in a week of technical research. And the resulting paralysis of information overload. We NEED a chart plotter. We sail this boat based on technology. We know our local waters, but are heading south in a month. Sure we have an ICW chart book that shows us stuff, but it's from 2007, I think. And as much as people have insisted that we need paper charts, the electronic versions are much more up to date. Plus I'm a sucker for computerized anything.
We also really want to upgrade to radar. Luna Sea came with loads of great equipment - solar panels, an Epirb, life raft, (relatively) giant fridge/freezer, AC/heater, etc. But if we're going to take her across an ocean, I'd feel a lot better on night passages knowing that we can see what's in our path.
As we NEED the chart plotter and WANT radar, we need two that are compatible. We ended up landing on a Garmin chart plotter/radar combo. We'd gone to West Marine to touch and feel and experience the various chart plotters in real life - and while the boat is currently loaded with (old) Raymarine technology, we both feel that the Garmin electronics are much more user friendly. AND West Marine currently has a chart plotter/radar combo on sale. So we did it. Mark loaded the online shopping cart with the combo, binoculars, and a hand held VHF combo pack. I don't know the total cost but he groaned a bit when the cart hit the $2000 mark. But hey - that's a lot less than the potential damages caused from running aground in unknown waters and it's a solid starting point for us as other pieces of equipment die - as I'm sure they will. We can add on to this system, slowly (hopefully not all at once!) replacing the remaining systems with compatible Garmin electronics. For now, our current depth sounder/speedometer is working fine, so it stays.
I don't know that we'll get the radar installed before the December trip, but that chart plotter installation is happening as soon as it shows up in the mail. As is the davit installation - likely all arriving at the same time to create a giant pile of projects next weekend.
In the meantime,
here's the chart plotter
we went with (I think it's actually the one that Mark played with last weekend when
Topanga
stopped by) :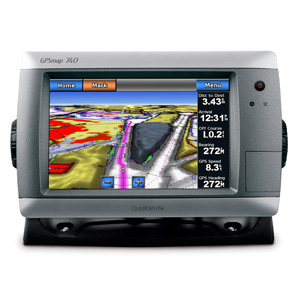 Garmin 740s

As much as we hate to spend money, it IS why we bought the boat long before our plans to set sail - we can afford to replace things and leave with the safest boat possible. And we'll have plenty of time to learn the new systems, to boot!
You guys have any experience with this unit?